FROM AUGUST 13 – SEPTEMBER 21
You can win a chance to find that monster buck you've been looking for your whole life.
GRAND PRIZE
---
The Grand Prize winner will be choosen on the last day of the contest and annnouned here.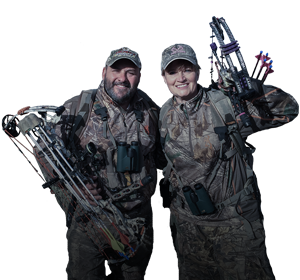 GRAND PRIZE
Whitetail hunt with Ralph & Vicki
A 5-day guided whitetail hunt with the hosts of Archer's Choice Ralph & Vicki Cianciarulo. Trip includes airfare, accommodations, tags and an absolutely unforgettable experience.
WEEKLY ARCHERY PRIZES
---
In addition to the Grand Prize, all entrants will have the chance to win 1 of 5 weekly prizes.
Week 1 Prize
Winner Notified
2 Breadcrumb Location Markers + 2 Wildgame Innovations Trail Cameras
See what's out there. With Wildgame trail cameras paired with Breadcrumb Location Markers, you find exactly what you're looking for.
Week 2 Prize
3-Pack Of Breadcrumb Bluetooth Trackable Nocks + 1 Box of Bloodsport Judgement Arrows + 1 Box of Bloodsport Gravedigger Broadheads
Be on bleeding edge with Bloodsport arrows & broadheads and Breadcrumb Bluetooth Trackable Nocks.
Week 3 Prize
Announced: Aug 24th
Week 4 Prize
Announced: Aug 31st
Week 5 Prize
Announced: Sept 7th
---
ENTER HERE NOW
Only avalible to the United States
1.
Select a task to register… quick and easy.
2.
Complete additional tasks to add entries and increase your chances of winning
3.
Check back each week to see if you're a Weekly Winner and further boost your chance of winning the Grand Prize.
Breadcrumb Don't Be A Loser Sweepstakes